By Madalin Precup, Certified and Independent Coach, Speaker, Trainer and Teacher, Mentor in SIM's Community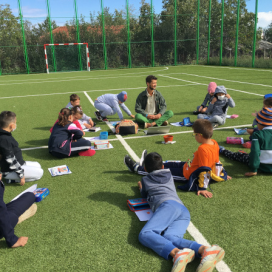 Whenever you hear the phrase, "Learning is not for me, it is for those who are in their youth, at school. I have a lot of work now, and I don't have time to learn "?
An interesting situation!
What I have noticed lately is the following situation that is repeated, namely: "Sir, it means that you have too much free time to do personal development ... you know how much work I have to do, I do not have time for something like that ". Many of us have such an experience.
Next, let me introduce you to a new approach, which, as simple as it seems, is as effective. To do this, I remember with great love, joy, and openness the beautiful experiences I had when I participated in projects in which I added value to children.
It is happening within the Global Youth Initiative, within John Maxwell's team, of which I am a part. Let me continue to share with you some of the fantastic experiences I had with the children.
Experience!
In a project that focused on developing values ​​and leadership for a group of children ages 9-13, it was truly remarkable to see the power of those children. What am I talking about here? A 3rd-grade girl in her class was marginalized by her teachers and automatically by her other classmates because she was different in terms of her physical appearance. The girl had to repeat the year because the others treated her in a certain way. She received support and guidance from people working in a miracle-working association. The following year, she faced her greatest fears successfully, went on her way, and was rewarded in the 4th grade with the first prize. The proof of courage, perseverance, forgiveness, self-leadership, and self-love that this girl has shown is incredible but true. I am delighted that I worked, and I had the opportunity to find out her story and encourage her to follow her path in life.
In another project, this time online, I had the opportunity to work and add value to other children, and I enjoy this every time. Although the interaction in the online environment is not the same as the face-to-face one, during the pandemic, it does not mean to close ourselves in, to robotize ourselves, and to give up the relations with those who are dear to us. I learned this from a beautiful child who adapted his passion for coloring on paper, and he adapted it to color in the online environment using various programs and applications.
In another project, I discovered and enjoyed working with the children to support the classes, make them fun, and learn, outside, in the fresh air and the warmth of the sun. The openness that children show, the vulnerability, the curiosity, the desire to see how they can do the same thing from other perspectives, the enthusiasm, warmth, and joy they show are transferable and welcome.
Realization!
I am very grateful to have met these wonderful children. We had a wonderful time together. We learned from each other, we felt good in each other's presence, and most importantly, we learned through play with curiosity.
Children are experts when it comes to curiosity and at the same time about putting a new idea into practice. That is why I invite you to continue connecting with the curiosity that each of us has and discovering the world with fresh eyes.
Big step here!
The important thing to remember is that I always have a choice. Do I follow the current way of doing things, as I have always done, and do I continue to experience precisely the same situations, or do I do something else? But there is another possibility to embrace a better way, be curious, and discover a new life.
Ask yourself!
What attracted your attention in the last period that made you use your curiosity?